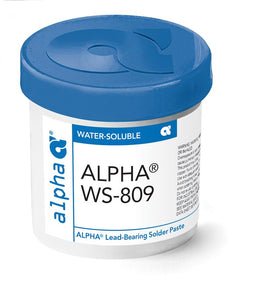 Alpha 148974, WS809 Sn63 Water-Soluble Solder Paste - Type 3, 500 gram Jar
Item #:

03-809-53
The Alpha Water-Soluble Solder Paste is available in a convenient 500g jar!  
Alpha Metal's WS809 is a tin/lead water soluble solder paste which is formulated to offer excellent cleanability after multiple reflows. This paste exhibits superior resistance to slump and drying under harsh processing conditions which is why it's one of our most popular solder pastes!
This high-quality solder paste is designed to meet the demands of electronics manufacturing as it provides exceptional performance and reliability.  In fact, it is one of the best solder pastes for electronics and gives you more bang for your buck!  
Whether you're working on intricate circuitry or larger projects, this solder paste goes above and beyond in its guarantee for professional-grade results that meet industry standards. 
It is imperative that the solder paste is professional grade as it is required to undergo rigorous quality control processes to ensure consistent composition, particle size distribution, and overall performance. This helps maintain reliable solder joints and reduces defects in the manufacturing process.
If you are looking for a solder paste with these specifications (63% Tin / 37% Lead Type 3 Powder), this paste is one of the best!  It is packed in a 500 gram jar and produces superior solder spread and shiny joints.
Product Details:

Alpha WS809 Water-Soluble Solder Paste
Sn63/37Pb Tin/Lead alloy in Type 3 powder
Resists slumping and drying up to temperatures of 66° to 84°F
500 gram Jar
ALPHA WS-809 is formulated to offer flexibility across printing speeds ranging from 1"/sec (25 mm/s) to 6"/sec (150 mm/s) with stencil thicknesses of 5 mil (0.125 mm) to 6 mil (0.15 mm).
Standard Type 3 solder paste contains 25-45 micron size
The Alpha WS-809 Specifications:
Excellent volume transfer efficiency over broad range of environmental conditions. 

The solder paste's carefully balanced viscosity ensures smooth and controlled dispensing helping you achieve precise solder placements and minimizing rework.  The precise viscosity and enhanced dispensing enable you to not only have successful printing and reflow characteristics, but it also makes the soldering process smoother and will give you stronger, more reliable solder joints. 

Fine-pitch printing with consistent shape and volume to 16 mil pitch QFP (63 x 10 x 5 mil deposits) and 15 mil circles (BGA225)

High throughput and yield with consistent print volumes at print speeds ranging from 1 - 6 inches/second.

Exhibits resistance to slumping and drying at temperature up to 66 - 84°F (19- 29°C) and relative humidity extremes (35%-65% RH). 

Water cleanable after two paste reflow cycles.  The water-soluble formulation of this solder paste simplifies the cleaning process. After soldering, residues can be easily removed with water, ensuring a clean and professional finish. 

Excellent low voiding performance that exceeds IPC Class III requirement.  

Superior solder spread performance on Cu OSP.  

With its exceptional wetting capabilities, this solder paste is perfect for facilitates reliable bonding between components and PCBs, reducing the likelihood of cold joints and ensuring long-term circuit integrity.        
The Alpha WS-809 Features: 
Brand: 

Alpha

Applications: 

Soldering

Availability: 

In Stock

Capacity: 

500g

Chemical Composition: 

Sn63Pb37

Container Type: 

Jar

Flash Point: 

185°C

Height: 

2.85 in.

Length: 

2.55 in.

Maximum Storage Temperature: 

50 degrees F.

Minimum Storage Temperature: 

32 degrees F.

Odor: 

Odorless

Physical Form: 

Paste

Product Type: 

Water-Soluble Solder Paste

Series: 

WS-809

Specific Gravity: 

4.4g/cc

Standards Met: 

IPC Class III, IPC J-STD-005, IPC J-STD-004A

Width: 

2.55 in.

Country Of Origin: 

MX 
Usage Instructions:
Ensure the working surface and components are clean and free from contaminants.
Stir the solder paste gently before use to achieve a consistent consistency.
Dispense a small amount of solder paste onto the desired area.
Place components onto the paste.
Solder using an appropriate heat source within the specified temperature range.
After soldering, clean residues with water as needed.
Securely seal the jar after use to maintain paste quality.
Elevate your soldering projects with the Alpha 148974 WS809 Sn63 Water-Soluble Solder Paste. Order now and experience the difference in soldering quality.   And, as always, we are happy to answer any questions that you might have.
Always check the label for the expiration date.
Please follow recommended guidelines and use appropriate protective equipment when using this solder paste.
Click the link below to see the technical bulletin:
SELECT FREE SHIPPING TERMS:
Items eligible for Select Free Shipping will be designated as such on their product pages.  If only some items in your order are eligible for Select Free Shipping, you will pay applicable shipping charges for the ineligible items.  Taxes may still apply to Select orders.  Items indicated as qualifying for Select free delivery status apply only to ship locations in the 50 United States.
INTERNATIONAL SHIPMENTS:
Shipments to countries outside of the U.S. and North America are subject to special requirements and regulations.  To request information about shipping to your country, contact us at: sales@stellartechnical.com.  All international customs fees, duties, and taxes are the responsibility of the recipient.
SHIPPING CLAIMS:
Discrepancies in shipments should be reported within 3 days of receipt. Packages damaged in transit should be refused and not accepted; contact us and we will re-ship your order. If you discover any concealed (hidden) shipping damage or missing items after opening your shipment, please save the shipping box and call us so that we can file a claim with the freight package service in order to credit you or replace the item.
If you are dissatisfied with your order for any reason, you can return your items for a prompt refund or exchange. You must notify us within 30 days of shipment for any returns. Refunds for items returned within thirty days of the purchase date will be credited in the same form as the original payment type. The original shipping and handling charges are not refundable unless your return is a result of our error. Shipping arrangements for returns must be made by the customer. **See "Warranty Policy" for problems covered under factory warranties.
**Returns must be in manufacturer's original packaging, in saleable condition and with all manuals and accessories. There may be a restocking fee if the item was a special order item.
TO RETURN A PRODUCT, CALL 888-765-3371 or 310-660-0140 between 8 am and 5 pm Pacific Time to get a Return Material Authorization (RMA) #. All returns MUST be accompanied by the RMA #; an RMA # is valid for thirty days.
WARRANTY POLICY:
All warranties are manufacturer warranties. Seller shall not be liable for any injury, loss or damage, direct or inconsequential, arising out of the use of or inability to use the product. Warranties by the manufacturer are the sole responsibility of the provider.