Solder Analytical Testing Service
What's in your Solder Pot ?  Let our factory lab provide an analytical report of your solder.  All working solder pots should be tested every 3 - 12 months, depending on alloy and usage rates.
Why test your Solder Pot ?  Your solder gets out of specification.  When you dip parts into the solder pot the composition changes as it pulls metals off the parts being dipped.  If one or more of the contaminants (trace metal elements) such as Copper, Zinc, Cadmium or Aluminum grow above the limit, solderability is affected.  
For lead-free solder pots the limit for lead content is 0.10%.  If you dip Tin/Lead coated parts into a lead-free solder pot it will pick up the lead from these parts.  When the lead grows above the 0.10% limit it no longer is a RoHS-compliant lead-free solder pot.  
Testing your solder pot on a scheduled basis should be part of your quality control program.  We analyze your solder samples at the largest Tin materials testing lab in North America.  Our lab reports compare the actual content against the standard maximum allowable limits.  Solder analysis test reports are emailed to you quickly from the lab.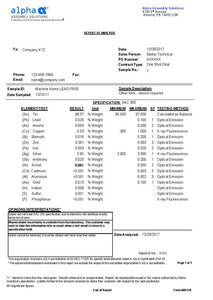 Your Price
Regular price
$165.68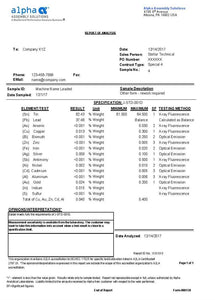 Your Price
Regular price
$165.68