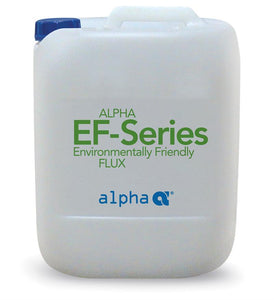 Alpha 148691-0005, EF-6100 No-Clean Soldering Flux - 5 gal Pail
Item #:

69-353-06
Alpha Metals' EF-6100 Flux is a high-reliability alcohol-based No-clean wave soldering flux for both tin/lead and Lead-Free assemblies. EF-6100 exhibits a low tendency for solder ball generation over a wide variety of solder masks and also is well-suited for Selective Soldering operations with longer dwell times. EF-6100 is designed to be applied by spray methods. IPC J-STD-004 Class ORL0. EF-6100 has a solids content of 3.8% with an Acid Number of 24.0 and contains a small amount of resin leaving only a low level of non-tacky residue after soldering. This item is a 5 gallon pail.  Alpha item #148691-0005.
*This product is classified as a hazardous material for shipping purposes and will require a HAZMAT fee in addition to standard ground charges. Refer to our Shipping Policy for current fees.
SELECT FREE SHIPPING TERMS:
Items eligible for Select Free Shipping will be designated as such on their product pages.  If only some items in your order are eligible for Select Free Shipping, you will pay applicable shipping charges for the ineligible items.  Taxes may still apply to Select orders.  Items indicated as qualifying for Select free delivery status apply only to ship locations in the 50 United States.
INTERNATIONAL SHIPMENTS:
Shipments to countries outside of the U.S. and North America are subject to special requirements and regulations.  To request information about shipping to your country, contact us at: sales@stellartechnical.com.  All international customs fees, duties, and taxes are the responsibility of the recipient.
SHIPPING CLAIMS:
Discrepancies in shipments should be reported within 3 days of receipt. Packages damaged in transit should be refused and not accepted; contact us and we will re-ship your order. If you discover any concealed (hidden) shipping damage or missing items after opening your shipment, please save the shipping box and call us so that we can file a claim with the freight package service in order to credit you or replace the item.
If you are dissatisfied with your order for any reason, you can return your items for a prompt refund or exchange. You must notify us within 30 days of shipment for any returns. Refunds for items returned within thirty days of the purchase date will be credited in the same form as the original payment type. The original shipping and handling charges are not refundable unless your return is a result of our error. Shipping arrangements for returns must be made by the customer. **See "Warranty Policy" for problems covered under factory warranties.
**Returns must be in manufacturer's original packaging, in saleable condition and with all manuals and accessories. There may be a restocking fee if the item was a special order item.
TO RETURN A PRODUCT, CALL 888-765-3371 or 310-660-0140 between 8 am and 5 pm Pacific Time to get a Return Material Authorization (RMA) #. All returns MUST be accompanied by the RMA #; an RMA # is valid for thirty days.
WARRANTY POLICY:
All warranties are manufacturer warranties. Seller shall not be liable for any injury, loss or damage, direct or inconsequential, arising out of the use of or inability to use the product. Warranties by the manufacturer are the sole responsibility of the provider.